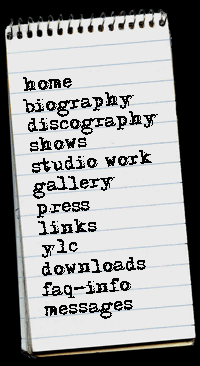 Tim Kerr was born and raised on the Texas coast on the Gulf of Mexico, just south of Galveston. There he began to surf and play guitar . He had a wonderful childhood, but hated high school. He will tell you that surfing, music and his friend and later-to-be-wife, Beth saved him during those high school years.
Some of his continuing musical influences were formed early and include British invasion bands, soul music, British folk and acoustic music (Bert Jansch, John Martyn, etc.)
Tim moved to Austin in 1974 to attend The University of Texas at Austin and there he earned a degree in painting and photography. While in the art department, he studied under famed photographer Garry Winogrand and was awarded a Ford Foundation grant for his work.
Also during this time, Tim was selected to compete two years in a row in a song writing contests held at the then new (now 32 years old) Kerrville Folk Festival. Tim couldn't participate in the second festival he was invited to because he had broken his arm while skating in an empty swimming pool just before the contest date.
THE BIG BOYS
In 1978, Tim Kerr, Chris Gates and Randy "Biscuit" Turner decided to start a band to play one time in a local punk club called Raul's.
The Big Boys had a relatively short (6 years), but intense career and became, according to the critics, one of the influential bands of the Texas punk scene. They are often mentioned for their unique musical approach as much as for their energetic live shows and their attitude, on and off of the stage.
Their frenetic style is what often makes them thought of as the precursors of skate punk.
Although it would be unwise to try to label them as this was a "punk" band that wasn't afraid of mixing other music styles, punk (even some "hardcore"), funk, soul and rock and there was often a horn section included.
The band put all their energy into the live shows and at times it was impossible to say who were the band members and who were the crowd members ("we're the band, you're the band"). Everybody was encouraged to participate in singing, stage-diving, dancing, etc. onstage or off. All were encouraged by example, to have a good time.
The Big Boys' singer, Randy had a wildly extravagant wardrobe to augment his soul-scream voice. His character gave a histrionic and extravagant touch to the band.
The intensity and energy they had at their shows soon gave them a good reputation on the scene and their growing audience was turning each show into a party. The impact they left was so strong that most of the people who actually lived that experience agree to that a Big Boys show was 50% band members and 50% the audience, like a big gang. At the end of each show, the band would often shout at the audience, "go start your own band!"
And the importance of encouraging people to participate, Tim has modeled in each one of his musical and artistic phases since then, "what are you doing to participate?!"
Some people also refer to the Big Boys as akin to the Californian band Minutemen (another band who mixed musical elements) and besides similarities in music, another common point between these two bands was based in attitude.
The influence of this attitude can be seen in many bands, like the Red Hot Chili Peppers, that began after these two, paving a new way to understand hardcore.
COURT REPORTERS
During The Big Boys, Tim also played for a short time with David Fenster (later in the Kamikaze Refrigerators) and a different drummer per show in the Court Reporters. They performed David's song, "Jump the Fence" which was later resurrected by The Big Boys. You can hear the Court Reporters original live version of this classic on the Gern Blansten release of "Wreck Collection" – it's a hidden track at the end.
POISON 13
During a break from The Big Boys, Tim started Poison 13 with Mike Carroll (the roadie of The Big Boys, who was also later the singer in Lord High Fixers and Total Sound Group Direct Action Committee). This band saw Tim moving away from hardcore frenzy, to swim in the swampy waters of the blues. They were too bluesy for punk lovers and too punk for the blues lovers. Their first shows were only witnessed by a hearty few.
Even with only two records released, the band gained a good reputation with their original raw and piercing sound.
The band's LPs, "Poison 13" and "First You Dream" were later reissued by Sub Pop together on one CD called "Wine Is Red, Poison Is Blue," and at the same time, Sub Pop released a single with released and unreleased songs, a single with more unreleased songs was also released by Estrus Records.
Poison 13 only toured in Texas and California, but the two original releases went far and wide, reaching illustrious northwest fans like Mark Arm and Steve Turner (Green River, Mudhoney) and Tom Price (U-Men, Gas Huffer ) who later were in another of Tim's projects: The Monkeywrench.
Despite this short experience (1984-1987), Poison 13 also left their mark and perhaps started to pave the way to future generations of garage-punkers with a bluesy affiliation in the 1990s.
Tim's guitar sound was like a scrawky motorbike roar, and Mike's snotty twang risked his throat for each song.
The band covered a large variety of material from The Sonics ("Psycho") to Willie Dixon ("Spoonful"). This band solidified a ragged, powerful and passionate style that would characterize Tim's future career.
BAD MUTHA GOOSE & the BROTHERS GRIMM
After Poison 13 parted ways, Tim developed a bit more of his funk vein. This band broke new ground (even though it was the late 1980s), by combining African Americans and Anglo-Americans on stage together performing socially conscious songs, in the vein of Sly and the Family Stone. The frantic delivery of the band's singers (Deñia Ridley, Alvin Dedeaux and Billy Pringle – who had sung in many other of Austin's early punk bands) spurred the giant crowds they got almost from the first, into a wild, sweaty pitch of uninhibited dancing. Bad Mutha Goose released 2 EPs on Fable Records and 1 EP and 1 LP on Alpha Music (the old Philly Sounds label), which are currently very hard to find. This band recorded with the likes of Joe "Da Butcher" Nicolo, (Schooly D, DJ Jazzy Jeff and the Fresh Prince) and with Muggs from Cypress Hill.
THE MONKEYWRENCH
After a Mudhoney show in Austin, Tim went to congratulate the band. Mark Arm and Steve Turner admitted to being big fans of Poison 13. When Tim told them that there were still a number of songs that had never been recorded, Mark suggested they should start a band to record those songs. Mark began writing and re-writing some of the lyrics and putting together The Monkeywrench, featuring Steve and fellow Seattle-ites Tom Price (who had been in U-Men and Gas Huffer) and Martin Bland (from Lubricated Goat and Bloodloss).
In 1992, they released an album on Sub Pop ("Clean As A Broke-Dick Dog") featuring the first single "Bottle Up and Go," the production duties of Conrad Uno (owner of Egg Studios), and the special dedication to Mike Carroll. The cover, designed by Art Chantry, is an homage to 1950s-era Blue Note Records cover art. The record blends attitude from Poison 13 with the Mudhoney voice. The band released a split single with The Holez (Hole+Pat Smear), paying tribute to the Germs ("Shutdown").
In 2000, The Monkeywrench released their second album, "Electric Children," on Estrus Records (USA), Sweet Nothing (UK), and Dropkick (Australia). Production was split between Tim and Jack Endino and the band. "The seeds of this record are the same as the first, but a little more developed. They got rid of the heavy artillery of the first record; the songs show that the band has put a lot of effort into them, and it's possible to find more diversity in the music that sometimes reaches psychedelic levels. On the other hand the songs don't have a past, they are not re-visitations or updates of Poison 13 songs, but the joint work of the band. As always, special care for the covers was taken. They picked songs by Roy Loney ("Love is a Spider") and The Groundhogs ("Cherry Red"). There is also volcanic acid rock pieces, a strong nine minute long song ("In the Days of the Five"), and plenty of sharp riffs that could remind us of Mudhoney."
The band released several singles on Trippin Elephant, Estrus Records, and In the Red. And they also released a split single with the Immortal Lee County Killers (covering "Levitation" by the 13th Floor Elevators, while the Killers covered "Goin' Down South" from R.L. Burnside) on Bronx Cheer (UK).
JACK O'FIRE
It was with Jack O'Fire that the first references to The Young Lions Conspiracy emerged (although Tim's contact with it dated from his days with the Big Boys). Philosophy? Attitude? A way of life? This is something that Tim tried hard to emphasize in all of his projects. It's important to mention Jack O'Fire's role in the recovery of Mike Carroll (Poison 13) as a singer, after an extensive period of inactivity. He sings on the "Punkin'" single. He also sometimes appeared on stage with them in the band's last year or so. Later on, he would form the Lord High Fixers with Tim.
Jack O'Fire's line up was Tim (guitar), Walter Daniels (vocals and harmonica, he was in Austin's Blood Sucking Go-Devils), Dean Gunderson (bass, he was in Seattle's Cat Butt, and Josh LaRue (drums, he was in Rain Like the Sound of Trains, Sevens, The Sorts, and now plays in HiM).
In a more sporadic way, other musicians also played with the band: Dave Crider (Estrus, from Mono Men, Watts, The Dt's), Pepper Wilson (from Austin's Death Valley), and Pat Barker-Benfield (from Austin's McLemore Avenue), who would later be the Hammond organ player in Total Sound Group Direct Action Committee.
With Jack O'Fire, Tim and his partners committed themselves to the fine art of covering their favorite artists. A real cover band, who enhanced raw originals with their own arsenal of harsh and infectious blues, who played with an abandoned release of frantic activity, like they were performing some kind of obscure voodoo ritual or black magic from the Louisiana swamps. Invocating the spirits of the masters of blues, (Willie Dixon, Howlin' Wolf, Little Walter, Hound Dog Taylor, Sonny Boy Williamson), the masters of rock'n'roll (Chuck Berry, Link Wray), the masters of Rhythm&Blues and Soul (Blind Willie McTell, Booker T & the MGs), they shouted their prayers wrapped in fire with honesty, sincerity, and fully believing in what they were doing. Not only did they bite from these genres, they would not refuse to play any music they thought good to share. They managed to amaze and confound audiences with covers from Joy Division ("No Love Lost"), Negative Approach ("Can't Tell No One"), Frank Zappa ("Trouble Everyday"), Wire ("12XU"), and The Fall ("A Year And A Day"). They also changed songs of many other bands to the Jack O'Fire sound: Sonics, The Beguiled, The Fall Outs, Billy Childish, Small Faces, Pretty Things, Lyrics, and a long list of etc.s that would take from here till next year to list, pointing out that their prolific discography is a puzzle for the collectors.
(Although, as it seems to happen with most of Tim's bands, most of this stuff is compiled on CD to avoid possible dramas and spending your life savings, unless, of course, you're one those vinyl junkies.)
Jack O'Fire CD compilations are: "The Destruction Of Squaresville" (Estrus, 1994) which compiles their first records (two 7" and two 10"); "Forever: The Final Chapter" (SFTRI, 1996) which collects the four chapters of the "Soul Music 101" series (three 7" and one 10"), and several singles released on In The Red, Vendetta, Static and Dishy; and "Beware The Souless Cool" (1+2 Records, 1996) which compiles tracks from records released on 7" on Estrus, on In the Red, and on No Lie Music.
If impossible to buy the originals on wax the owner of these CD's will have at least a large percentage of the material released by Jack O'Fire - truly indispensable and revealing experience.
LORD HIGH FIXERS
When Tim was done with Jack O'Fire, he got himself into another adventure. Covered by some kind of a experimental spiral and trying to prove that every style can be played while sharing something with the rest of the band. The Lord High Fixers brought together Mike Carroll (Poison 13), Robbie Becklund (Austin's Big Foot Chester, & The Spoilers), Stephanie Paige Friedman (Houston's Sugar Shack, Austin's The Spoilers, Big Foot Chester, Sunshine Supergirl, King Sound Quartet) and Andy Wright (Houston's Sugar Shack, Partyowls).
This guerrilla group was ready to spread the message. At this point, Tim's hunger to experiment being insatiable, Lord High Fixers managed to mutate into a more garage-punk band without losing touch with their past, buried in the blues, and including a nod to the 1960s, as well as to soul and jazz - but always near its blues tradition of loud volume, 1960s feeling, wild distortion, riffs that burn, and Carroll's snotty voice.
Lord High Fixers did few cover songs, and showed more interest in composing their own material, without forgetting tributes to their favorite artists, covers from bands such as the Supremes, Chuck Berry, Pharoah Sanders, Bob Dylan, The Birds, Jimmy McGriff, Alice Cooper ("18", "Little Flower of Ulysses"), Subhumanz, The Seeds, Mose Allison and even Lennon/McCartney ("Everybody's Got Something To Hide"), etc.
The concept of the Young Lions Conspiracy was still present in their manifesto and the words "What Are You Doing To Participate?" hadn't lost its strength. Black Panther Party references and the smell of juvenile revolutions came up, while aspects of mod aesthetics appeared on the covers of their records, reflecting Tim moving back toward soul, again.
Their discography is boggling when considering the length of time of their existence (1995-1999). As with Jack O'Fire, this band released many singles, splits, 10", and two flaming LP's. And again, some of the wax-only releases were compiled on CD.
The discography page gives a good perspective on their productiveness. But, a few selected gems include:
-"When the Revolution Comes" (CD, Au-Go-Go, 1995) (compiles the Scooch Pooch 10" "Talkin' To Tomorrow" and "Once Upon a Time Called Right Now," along with their first three singles and some tracks from compilations and one unreleased song).
-"Once Upon a Time Called...Right Now" (10"/CD EP, Estrus, 1996).
-"Group Improvisation...That's Music" 10"/CD SFTRI 1997 (CD has bonus tracks).
-"Is Your Club a Secret Weapon?" (LP/CD, Estrus, 1999).
-"Beginning of the End, End of the Beginning" (CD, In The Red, 2001).
KING SOUND QUARTET
During Lord High Fixers existence, Tim also had the time to give birth to a joint venture with Mick Collins (from Detroit's Gories, Dirtbombs), Alex Cuervo (from Dallas's Gospel Swingers, Feast of Snakes, Now Time Delegation, Blacktop, This Damn Town) and Stephanie Paige Friedman (Sugar Shack, Lord High Fixers, The Spoilers, Big Foot Chester) called King Sound Quartet
They didn't last long.
King Sound Quartet was a band who played raw and abrupt material, an obscure and violent garage rhythm & punk, making concessions to Sun Ra ("Space Is The Place" lasts 20 minutes and covers the entire side B of their album).
Their second album would have been also been graced by the guitar stylings of Matt Verta-Ray (from Speedball Baby).
The records of KSQ are: "Annihilate This Week" (7", Estrus) and "The Get Down Imperative" (LP/CD, In The Red).
THE NOW TIME DELEGATION
This band is what the King Sound Quartet could have been, although with a bigger soul presence. Along with Tim and Alex, this band included Steve Adkins (Gospel Swingers, Lone Star Trio and The Odd Numbers), Kari Luna (Gospel Swingers, The Grown-Ups, This Damn Town), Lisa Kekaula (BellRays) and Matt Verta-Ray (from Madder Rose, BlackFlies, Speedball Baby, Valentine Six, The Odd Numbers, The Oubilettes).
Their only full-length album "Watch For Today," released by In The Red Records, is a soul bomb, the explosion from which The Now Time Delegation detonated in our faces. MC5 having a blast with Booker T & The MG's? The Rolling Stones trying to catch up with Etta James? These comparisons give the listener an idea of the nitroglycerine that these musicians created, using knowledge, that a lot of people could only wish for, of their field.
For the record, some covers were also recorded: Eddie Floyd, T.S.U. (Texas Southern University) Toronados, Curtis Mayfield, The Flirtations, The Quick and King Floyd.
TOTAL SOUND GROUP DIRECT ACTION COMMITTEE
This is Tim's most recent band. Under this big name he released a small masterpiece, giving another round to the music with "soul." To make a long story short, this is an artefact of GroovySoulGarageBeatPunk. That they are joining all their past experiences in the honest, sincere will to have fun is clear enough, even Tim says that in TSGDAC's website: "Total Sound Group Direct Action Committee comes from the seeds of the Lord High Fixers. Our purpose is to celebrate our time here together... To show that anyone can and should participate in self-expression!! All sound/movement/sight/breath is valid. WE ARE ALL MAKING HISTORY!!!" As clear as this, as simple, as complex. The seeds he is talking about are Tim and Mike Carroll joined by three Austin characters: Nick Moulos (CrackPipes, Attack Formation), Pat Barker-Benfield (McLemore Avenue, Bowler Boys) and Ben Webster (Five Way Action, Tune in Tokyo, Attack Formation, Sean Na Na).
Without wanting to sound repetitive, let's talk about the covers... Small Faces, The Eyes, and The Attack. So far, the material that the band has released on Estrus Records, is limited to a single and an LP "The Party Platform...Our Schedule Is Change!" and a couple of tracks on the Estrus sampler "Estrus Double Dynamite." Coming soon TSGDAC will appear on a Kill Rock Stars compilation "Tracks and Fields".
Of course they stay faithful to the Young Lions Conspiracy and have even more guts for planting seeds and making a joyful noise.
Tim has also done soundtrack work in the 1986 documentary Drive-In Blues by Jan Krawitz and in the recent documentary "Who Is Bozo Texino?" by Bill Daniel. In 2002-2004, Tim has written three works for choreographer Holly Williams at the University and has begun showing his paintings in Virginia, in Los Angeles, in San Francisco, in Austin (at Yard Dog and in the Rawk Show), on the Vans web site, and in Portland OR.
Matarife (Published in NDF/Spain, 2003)
Edited and enhanced by Beth in Texas 3/2004